Product
CNC Compression Coiling Machine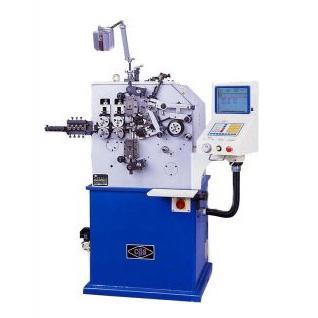 CNC Compression Coiling Machine
Product ID: CS CNC-26
CS CNC-26 combines precision CNC controlled servo-motion system and conveniences of mechanization. It is suitable for various kinds of spring products through a simplified setup and programming procedure. We hope customers can learn CS CNC-26 in the shortest period of time


VIDEO:



TORSION DEVICE - CS-26T
CS-26T is equipped with flexible coiling finger that allows you to produce torsion spring with left or right hand coiling. Angle sensor assists us to maintain accurate torsion angle. We can also utilize CS-26T to produce safety-end springs, magazine springs, simple wire-forming parts and related products.
Features:
CS CNC-26 is able to produce various kinds of springs such as compression springs, oil seal springs, taper-srpings and battery springs. We can utilize optional equipment -- the torsion device together with an angle sensor and support cylinder to produce torsion springs and related products. Computer controls wire feeding and machine main axis (X). X axis is able to move forward and backward without limits. It is an advantage for setting-up non-symmetrical or symmetrical springs and multiple-taper springs. We can change program contents while machine is running. Maximum memory storage is up to 150 programs.
| Model | CNC-26 |
| --- | --- |
| Wire Diameter | 1.0~2.6 mm |
| Max. O.D. | 50 mm |
| Max. Production Speed | 300 pcs/min |
| Feed Length | Unlimited |
| Feed Speed | 135 m/min |
| D/d | 4 |
| Feed (Y) Axis (kw) | 4.5 kw |
| Cam(X) Axis (kw) | 3.5 kw |
| Monitor Display | Color / Chinese / English |
| Max. Value | X:359.9° Y:9999.9mm |
| Min. Value | X:0.1° Y:0.01mm |
| Memory | 999 Programs Max 150 Lines for each program |
| Machine Dimensions | 142 x 100 x173 cm |
| Wooden Case Dimensions | 194 x 133 x194 cm |
| Machine Weights | 950kgs |
| Gross Weights | 1150 kgs |
| Power | 220V 3P 50/60Hz |
Contact Detail
| | |
| --- | --- |
| CEO: | Mr. Chris Huang |
| Contact: | Mr. Chris Huang |
| Address: | 9F., No.63, Sec. 4, Chongxin Rd., Sanchong Dist., New Taipei City, Taiwan |
| TEL: | +886-2-89827211 |
| FAX: | +886-2-89827200 |
| Email: | info.springcentral@gmail.com |
| URL: | |
| ZIP: | 24161 |