Product
Strip Forming Machine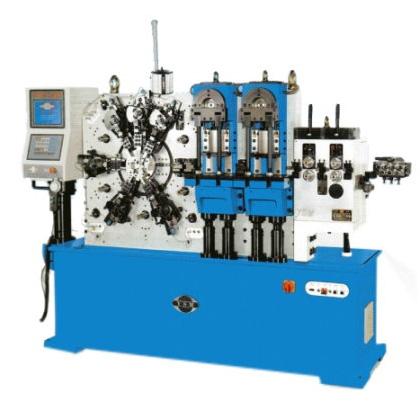 CNC Strip Forming Machine
Product ID: YSM CNC-26TP
Spring Central's CNC Strip Forming Machine is used for produce wire and strip wire products. We are a renowned manufacturer and supplier of all kinds of CNC spring making machines, and this machinery is one of them. Other than that, we also provide CNC spring former, CNC coiler, garter spring coiler, strut(rope) hanger machine, furnace, and spring measuring device. All the equipments you want for spring making, we have them all!
The machine we manufactured is with fine quality and efficient performance. With this machine, you can boost your production capabilities for sure. Established in 2005, Spring Central provides transformation spring making technologies, assisting customers in innovating new ways to designing springs and strip wires. In this way, as our customers, you are able to have a broader range of quality products.
We have earned customers' trust with our quality spring machinery. If you want to accelerate the speed of your production line, be equipped with excellent machines is indispensable. Quality, competitive price, efficient and guaranteed strip forming machine is our pride. Take our products as your first choice. You'll never regret!
Features:
‧Alternative wire and strip
‧Flexible slide position
‧Auto-detection for material jam or disconnection.
‧Auto-lubrication system
‧Rear cam unit
‧Optional servo spinner, 3D station.
MODEL
YSM CNC-26TP
Processing Dimension
Wire Size(Wire Diameter)
0.6-2.5mm
Width of Strip Wire
30mm
Thickness of Strip Wire
0.3-1.2mm
Hardness of Wire
80(CARBON)
Length of wire Feeding
(Unlimited)
Processing Speed
200pcs/min
Pressure
Punching Pressure
30TON
Slide Power
1.5TON
Processing Type
Silde Type
37mm
Press Processing Type
12mm
Power
CamAxis
4.5HP/(3.5KW)
Feeding Axis
2.0HP/(1.5KW)
Press
4.5HP/(3.5KW)
Coil Heart (option)
0.5HP/(400W)
Machine
Appearance Size
25500x780x1800m/m
Weight
2900kg
MODEL
YSM CNC-26T
Length of wire
Feeding
200mm
Hardness of wire
80
Wire size
0.6-2.5mm
Width of Stirip
Wire
30mm
Thickness of Stirip
Wire
0.3-1.2mm
Punching Pressure
8500kg
Production Speed
200pcs/min
Slide Power
1500kg
Motor Rating
5HP/3.7KW
Packing Dimensions
1900x990x1900m/m
Gross Weight
1500kg
Contact Detail
| | |
| --- | --- |
| CEO: | Mr. Chris Huang |
| Contact: | Mr. Chris Huang |
| Address: | 9F., No.63, Sec. 4, Chongxin Rd., Sanchong Dist., New Taipei City, Taiwan |
| TEL: | +886-2-89827211 |
| FAX: | +886-2-89827200 |
| Email: | info.springcentral@gmail.com |
| URL: | |
| ZIP: | 24161 |