Product
CHF-2 Hanger Making Machine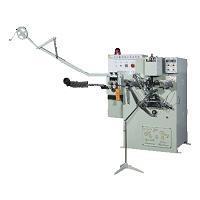 Hanger Making Machine
Product ID: CHF-2
Voltage: we can install the machine in accordance with different voltage requirements for different countries, and the safety devices of the machines are up to international safety standard.
Wire Feeding Stand: The stand comes in two kinds, one is FS1HP type that has a loading capacity of 300 kgs of iron wire and the other is FS2HP type that has loading capacity of 1,000 kgs of iron wire. This wire feeding stand can operate automatically.
Performance: Fast production; power saving; available with a 1.5KW main frame and FS1HP-0.75KW and FS2HP-1.5KW wire feeding stands. Quality guaranteed; easy in operation; saving labor costs.
Features:
High quality guaranteed; easy in operation; saving labor costs.
The space needed for the installation of the machine (including main frame and wire feeding stands) is around 7-meter long and 3-meter wide.
CAPACITY
35 per/min
WIRE FEEDING STAND
1HP, 2HP
WIRE DIAMETER
1.6mm~1.9mm
HANGER SIZE
14" ~ 16"
MOTOR
2HP
NET WEIGHT
1400KGS
(INCLUDING FEEDING STAND)
PACKING MEASUREMENT
MAIN BODY
75" x 52" x 78"
FEEDING STAND
FS1HP 53" x 53" x 26"
FS2HP 61" x 61" x 26"
Contact Detail
| | |
| --- | --- |
| CEO: | Mr. Chris Huang |
| Contact: | G.M. Mr. Chris Huang |
| Address: | 9F., No.63, Sec. 4, Chongxin Rd., Sanchong Dist., New Taipei City, Taiwan |
| TEL: | +886-2-89827211 |
| FAX: | +886-2-89827200 |
| Email: | info.springcentral@gmail.com |
| URL: | |
| ZIP: | 24161 |